Menu
Starters
White prawn tartare, Jerusalem artichoke, soy and ginger
-
Black Angus beef tartare, variety of mushrooms
-
Cream of pumpkin soup, soft hazelnut, parsley
-
First Dishes
Spaghettone, plum tomato, creamy Parmesan cheese, Ligurian basil
-
Fusilloni pasta with cheese and pepper
-
Risotto "Acquerello" Parmesan style, vegetable powders
-
Main Dishes
Turbot, leaf cabbage, baked pumpkin
-
Egg cooked at low temperature, porcini mushroom crumble, autumn vegetables
-
Tender veal cheek, roasted potato mousse, crispy polenta
-
Wine by the glass
Pecorino, Donna Orgilla 2018
-
9
(pecorino 100%)
Elena walch per sé 2017
-
9
RED (schiava 100%)
Lunch Menu Price
1 course to choice, glass of wine, water and coffee
-
25
2 courses to choice, glass of wine, water and coffee
-
35
Starters
Egg cooked at low temperature
-
22
with mushroom powder, Jerusalem artichoke, porcini mushrooms
Foie gras escalope, beetroot and raspberries
-
28
Raw red prawn, bisque, sea bass consommé, yuzu
-
28
Mediterranean chowder, curled octopus, toasted bread
-
26
First dishes
Herbs ravioli
-
24
with octopus, 'caciucco' fish chowder, rice vinegar
Roasted rabbit double ravioli
-
26
with porcini mushrooms, cream of baked potato
"Acquerello" rice
-
26
with lemon and raw violet prawn
Spaghettone, turnip tops, stewed snails
-
24
Sardinian fregola
-
22
with vegetables, sweet onion gel, legumes, crispy bacon
Main dishes
Black cod
-
36
with oriental spices, ginger consommé, leaf cabbage
Roasted and stewed mallard
-
34
with bbq beetroot, radicchio
Turbot, grilled lettuce, bergamot, Guinea fowl
-
28
Tender veal cheek, roasted cauliflower, potato mousse
-
24
Suckling pig belly, baked pumpkin, natural almond, cabbage roll
-
28
Black Angus sirloin
-
30
with balsamic carrot, aubergine, black garlic
Dessert
Oil, lemon and aniseed
-
16
"Non è la solita crostata"
-
14
Chocolate textures, passion fruit
-
14
Almond, chestnuts, apple and ginger
-
15
Tasting Menu "5 K"
5 courses, water, coffee and wines included
-
125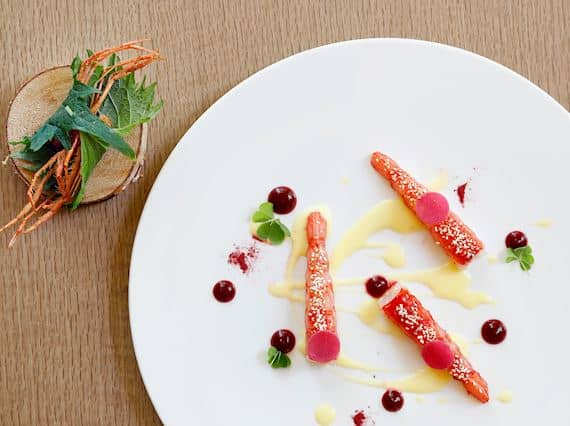 Our Concept
Rapid cooking, local products and attention to the raw materials are the protagonists of our new dishes, always putting the recognition and simplicity of every single ingredient at the first place. An Italian cuisine with a modern approach, guided by a young and dynamic brigade, united by the passion for cooking, with a Michelin-starred background. A suggestive location with a convivial yet intimate atmosphere, and the attention to the smallest details to make you feel at home.